🇺🇸 - Hello everyone ! This week I wanted to use my pastel yellow Barry M nail polish ... Again, yes I fell in love! It is so beautiful, I was looking for a pastel yellow for so long. Promised after I will change! So starting from the yellow here is a nail art seems obvious to me when I drew my nail art ideas. An activity I love to do on Sunday: The movie! And it is true that I am pretty greedy I love eating M&M's sitting in front of the big screen. But the popcorn is irresistible too! So I decided to show you 5 different levels to draw pop corn on nails.
🇫🇷 - Salut tout le monde ! Cette semaine je voulais réutiliser mon vernis Barry M jaune pastel, oui j'en suis tombée amoureuse ! Il est si beau, depuis le temps que je cherchais un jaune pastel. Promis après je change ! Donc en partant du jaune voici un nail art qui m'a sembler évident quand je dessinais mes idées nail art. Une activité que j'adore faire le dimanche : Le cinéma ! Et c'est vrai que je suis une grande gourmande j'adore manger des M&M's assise devant le grand écran. Mais le pop corn est aussi irrésistible ! Don j'ai décidé de vous faire 5 différents niveaux pour faire des pop corn sur vos ongles.
🇺🇸 - I hope you'll like this nail art but you can modify it depending on your desire and size of your nails, you can do the same design on all nails it looks nice too, that's true I like odd nails but I wanted show you different levels. So have fun ! I leave you with the video just above.
🇫🇷 - J'espère que ce nail art vous plaira, mais vous pouvez le modifier selon vos envies et la taille de vos ongles, vous pouvez très bien faire le même dessin sur tous les ongles, c'est très joli aussi, c'est vrai que moi j'aime bien les ongles dépareillés et je voulais vous monter différents niveaux. Alors à vos vernis, faites vous plaisir! Je vous laisse avec la vidéo juste au dessus.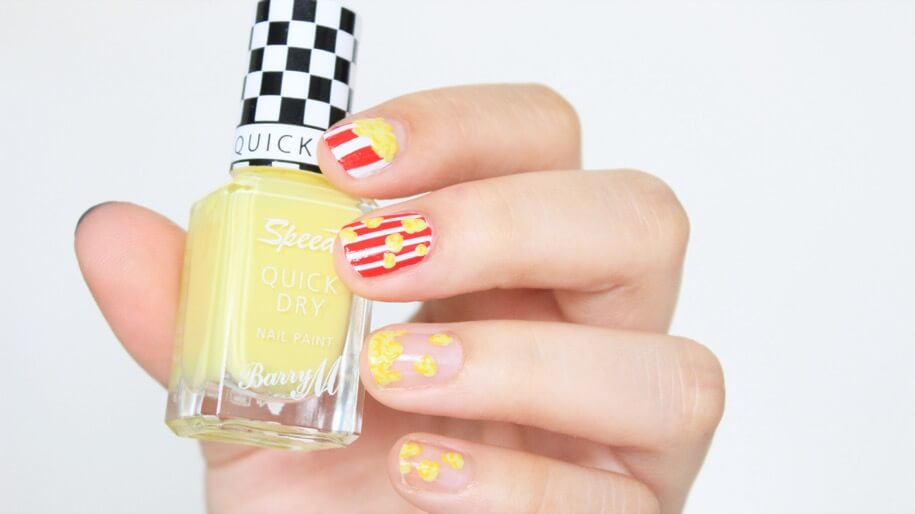 🇺🇸 - I used : / 🇫🇷 - J'ai utilisé :
- Base and Top coat O.P.I
- Barry M Quick Dry On Your Marks
- SinfulColors Let's meet #928
- Kiko #275
- Yves Rocher Rouge Impérial
- L'Oréal Color Riche Chantilly Lace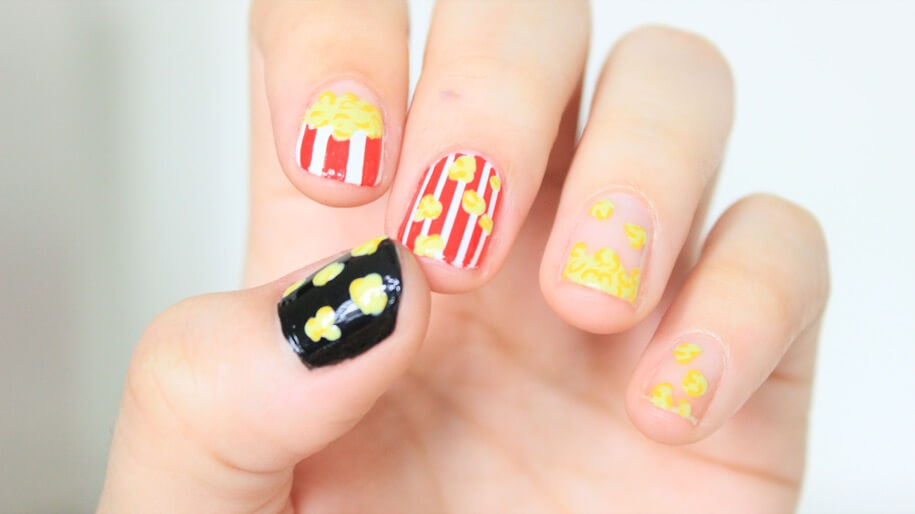 🇺🇸 - TIPS : Don't forget to always start a nail art with a base coat. A thin layer of nail polish then a thicker cause this way the nail polish will dry faster and the colors will be brighter. And of course finish with a top coat but just tap so the nail art won't smear
🇫🇷 - ASTUCES : N'oubliez pas de toujours commencer un nail art avec une base. Une fine couche de vernis et ensuite une plus épaisse car de cette façon le vernis sèchera plus vite et les couleurs seront plus brillantes. Et évidemment finir par le top coat mais juste en tapant pour que le nail art ne bave pas.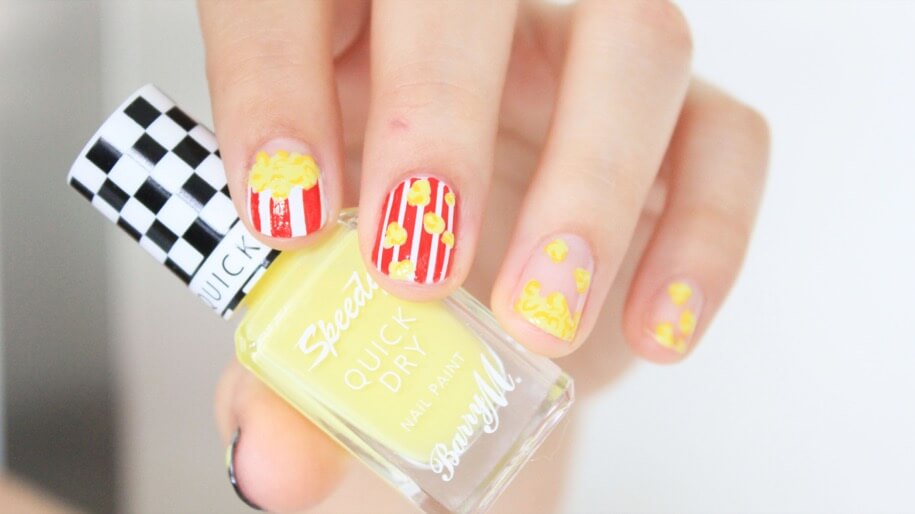 🇺🇸 - Remember for striping tape that the base has to be totally dry and remove the striping tape immediately after applying the nail polish. Then for pop corn grain there are no rules, make the the size you want and to make them more realistic make small random lines around with a darker yellow.
🇫🇷 - N'oublier pas pour le striping tape que la base soit bien sèche et de retirer les bandes tout de suite. Ensuite pour les grains de pop corn il n'y a pas de règles, faites les de la taille que vous voulez mais pour les rendre réalises faites des petits traits aléatoires avec un jaune plus foncé.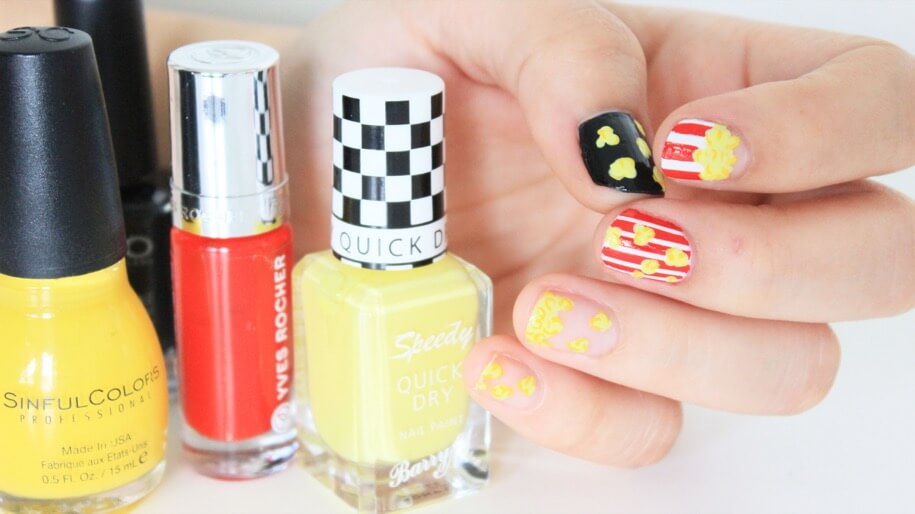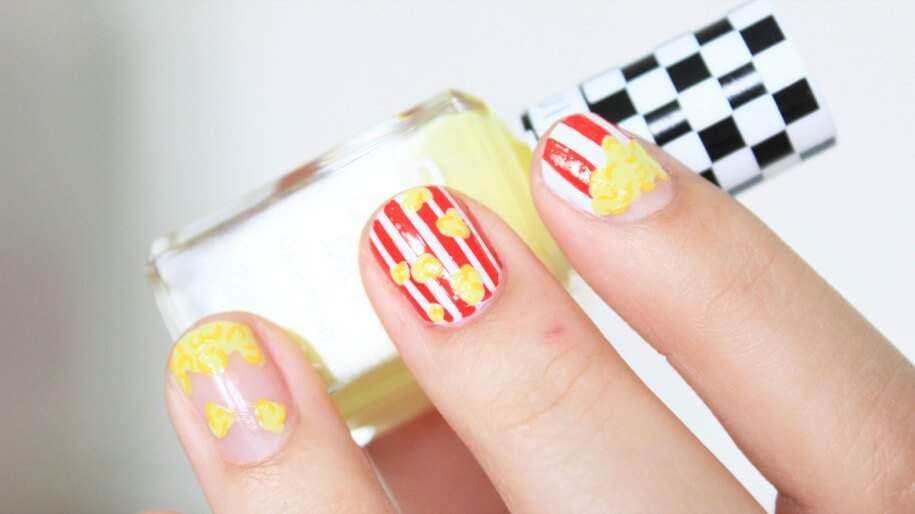 🇺🇸 - I really hope you enjoyed this article. And if you want a special nail art just send me a comment :) Enjoy ! And see you soon for a new blog.
🇫🇷 - J'espère que vous avez aimez cet article. Et n'hésitez pas si vous avez des envies de nail art envoyez moi un commentaire. :) Amusez vous ! Et à bientôt pour un nouveau blog.
Musique : Vibe Tracks - Dutty