🇺🇸 - Hello girls ! Soon December and fall nail art are almost finished, I take this opportunity to share with you a nail art quite easy to realize : pretty drooping leaves with fall colors !
🇫🇷 - Salut les filles ! Bientôt Décembre et donc bientôt fini les nail art d'automne, j'en profite donc pour partager avec vous un nail art assez facile à réaliser : de jolies feuilles tombantes aux couleurs d'automne !
🇺🇸 - I used : / 🇫🇷 - J'ai utilisé :
- Maybelline Forti Fluor
- Yves Rocher Top Coat Gloss
- Kiko Velvet Satin #688
- Sinful Colors Let's meet #928
- Kiko Quick Dry #815
- Kiko #357
- Essie Start Deco
- Kiko #356
- Yves Rocher Or Métalisé
- Yves Rocher Rouge Impérial
🇺🇸 - TIPS : / ! Don't forget to always start a nail art with a base coat. A thin layer of nail polish then a thicker cause this way the nail polish will dry faster and the colors will be brighter. And of course finish with a top coat but just tap so the nail art won't smear
🇫🇷 - ASTUCES : / ! N'oubliez pas de toujours commencer un nail art avec une base. Une fine couche de vernis et ensuite une plus épaisse car de cette façon le vernis sèchera plus vite et les couleurs seront plus brillantes. Et évidemment finir par le top coat mais juste en tapant pour que le nail art ne bave pas.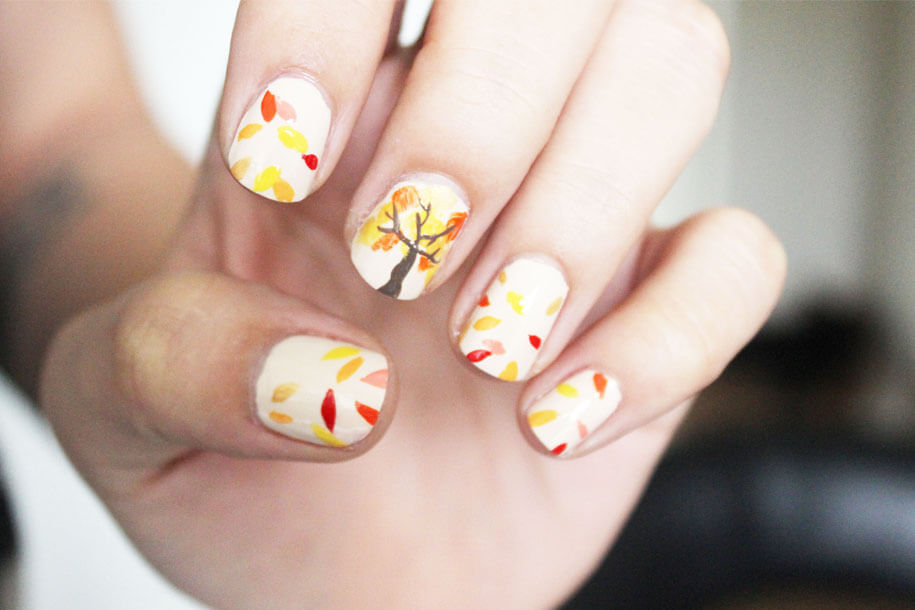 🇺🇸 - Enjoy ! And see you soon for a new blog.
🇫🇷 - Amusez vous et à bientôt pour un nouveau blog.
Musique : Spring In My Step