🇺🇸 - HAPPY 4TH OF JULY ! I know I'm French but I couldn't resist to realize a US nail art cause I really like this country and I wanted to wish you a lovely and festive Independence day ! Hope this nail art will bring you out some ideas for an American nail art.
🇫🇷 - JOYEUX 4 JUILLET ! Oui je sais je suis Française mais je ne pouvais pas m'empêcher de réaliser ce nail art US parce que tout d'abord j'adore vraiment ce pays et je voulais leur souhaiter un joli et festive jour de l'indépendance ! J'espère que ce nail art vous apportera quelques idées pour un nail art Américain.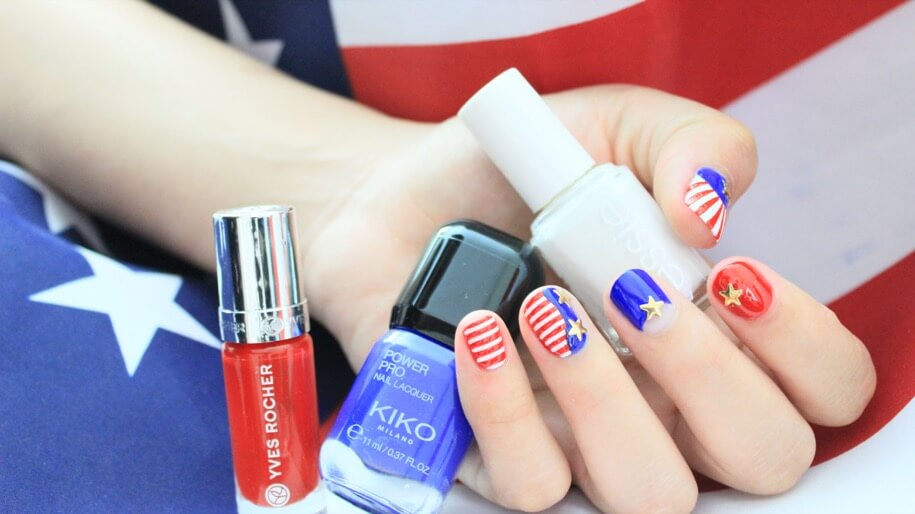 🇺🇸 - Little tip for this nail art I decided to use a striping tape and some studs to make a very clear nail art. With a striping tape you can make lines very thin, straight and regular and the star studs are perfect for just having a star with branch, cause I confess that I have a little issues with stars, there is always a branch that is crooked or longer than the others. on the other hand remember to secure the studs with the top coat before and after applying them so they will stick better!
🇫🇷 - Petite astuce pour ce nail art j'ai décidé d'utiliser du striping tape et des studs pour faire un nail art très net. Avec le striping tape les lignes sont fines, droites et régulières et les studs en forme d'étoile sont parfaits pour simplement avoir une étoile avec des branches parfaites, car je vous avoue que j'ai un peu de mal avec les étoiles il y a toujours une branche qui est de travers ou plus longues que les autres. Par contre pensez à bien les fixer avec du top coat avant et après application pour que les studs tiennent au mieux !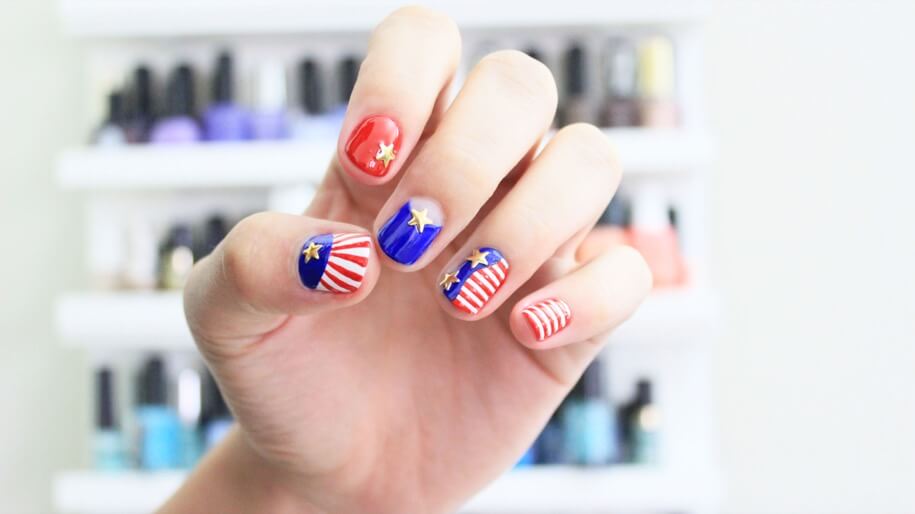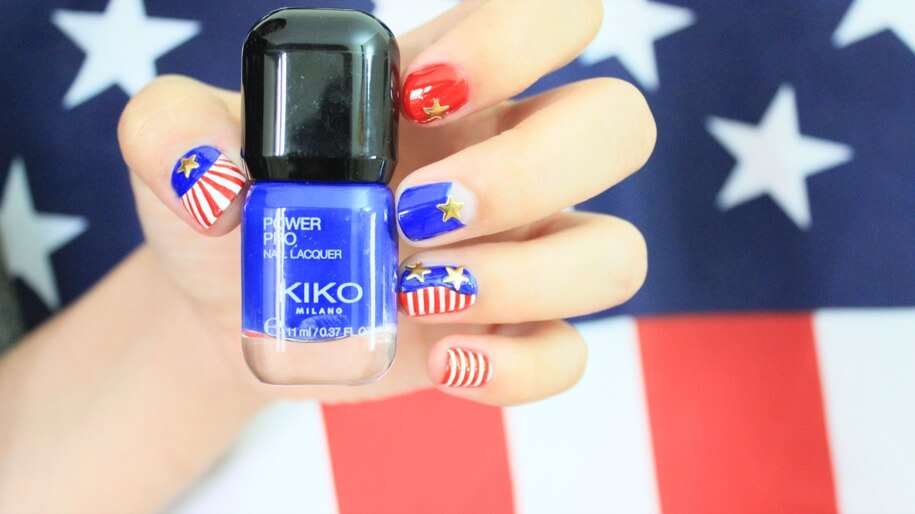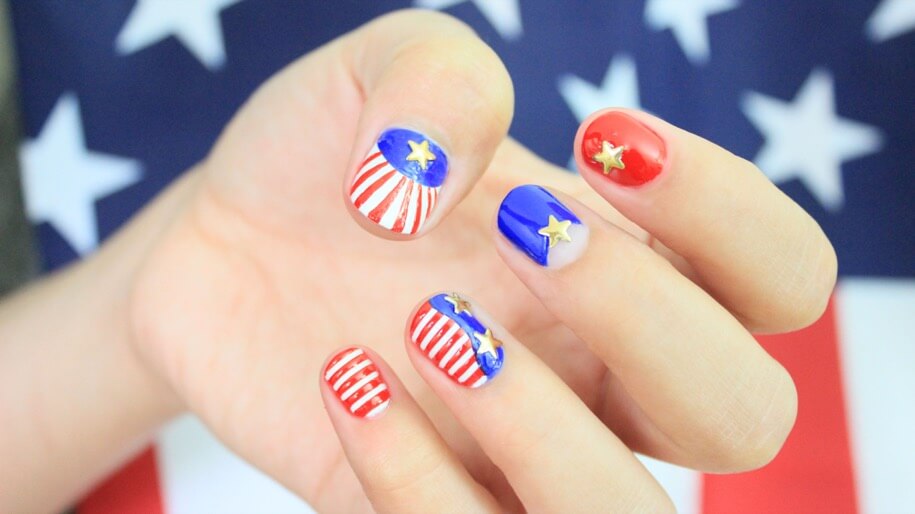 🇺🇸 - I used : / 🇫🇷 - J'ai utilisé :
- Striping Tape : https://lisablabla.com/shop/produit/striping-tape/
- Pinceaux : https://lisablabla.com/shop/produit/lot-de-15-pinceaux-nail-art/
- Pompe à dissolvant : https://lisablabla.com/shop/produit/pompe-a-dissolvant/
- Pince courbée : https://lisablabla.com/shop/produit/pince-courbee-nail-art/
- Essie Blanc #008
- Kiko Power Pro #39
- Yves Rocher Rouge Impérial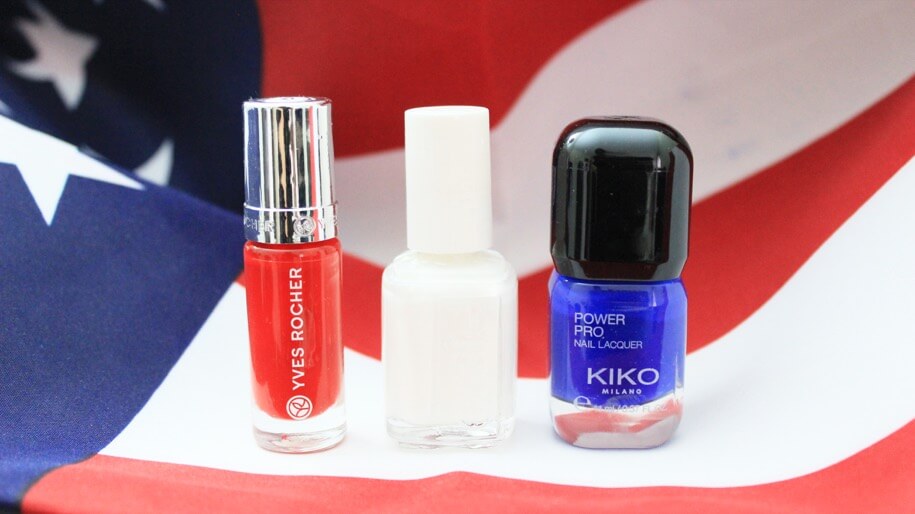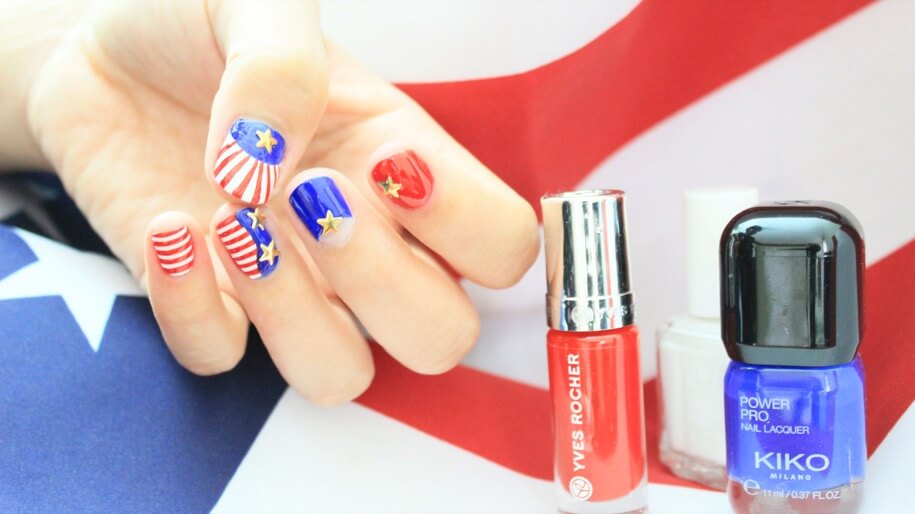 🇺🇸 - TIPS : Don't forget to always start a nail art with a base coat. A thin layer of nail polish then a thicker cause this way the nail polish will dry faster and the colors will be brighter. And of course finish with a top coat but just tap so the nail art won't smear
🇫🇷 - ASTUCES : N'oubliez pas de toujours commencer un nail art avec une base. Une fine couche de vernis et ensuite une plus épaisse car de cette façon le vernis sèchera plus vite et les couleurs seront plus brillantes. Et évidemment finir par le top coat mais juste en tapant pour que le nail art ne bave pas.