🇺🇸 - Hi everyone! Here we are! It's almost time for the Pretty Little Liars summer premiere, I do not know if you're like me but I was expecting it for a long time! And it's pretty rare that I am so addicted to a TV series (Prison Break, Lost, Desperate Housewives, Grey's Anatomy, PLL) after listing them I see that it's not so true 😜 . So to pass the time I started a pretty bloody nail art. We forget the girl and cute side and I even tried a special effect makeup to accentuate the -A side. (Be lenient hum this is a first time).
🇫🇷 - Salut à toutes ! On y est! C'est bientôt l'heure du retour de Pretty Little Liars, je ne sais pas si vous êtes comme moi mais j'attendais ça depuis un moment ! Et c'est assez rare que je sois si accros à une série (Prison Break, Lost, Desperate Housewives, Grey Anatomy, PLL) enfin si en les listant je m'aperçois que ça fait quand même pas mal 😜 . Alors pour passer le temps je me suis lancée dans un nail art un peu sanglant, un peu beaucoup d'ailleurs. On oublie le côté fille et coquet et je me suis même lancée dans un maquillage effet spéciaux pour accentuer le côté -A (soyez indulgentes hein c'est une première fois).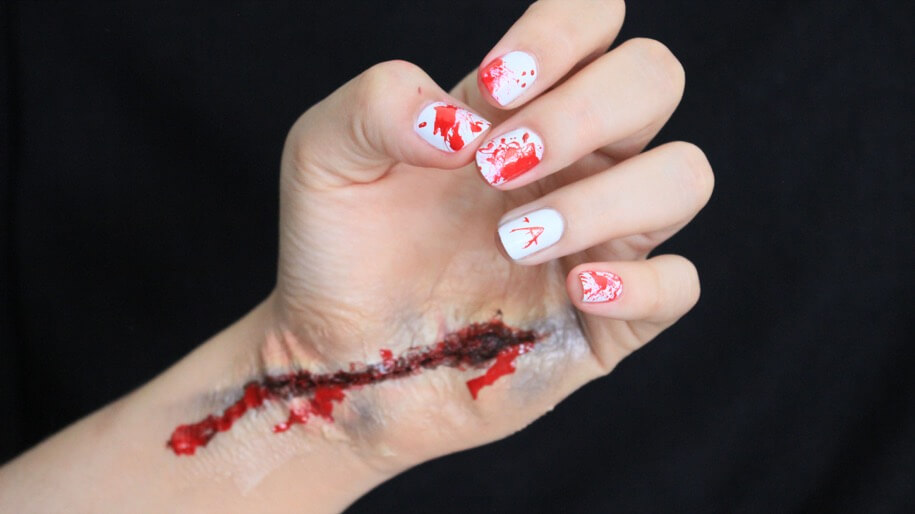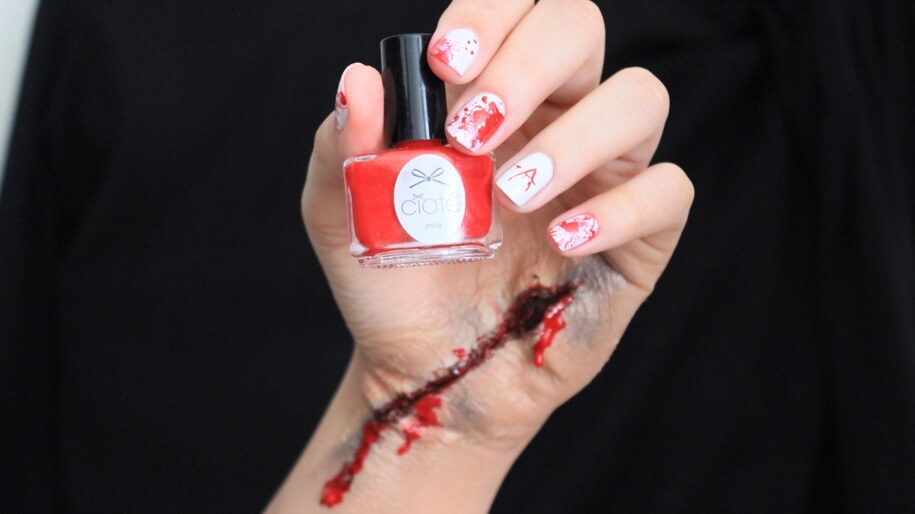 🇺🇸 - I could,'t tell you who is my favorite character, but it's true that I have a slight preference for Mona 😊. Well let's talk about nail art now After applying a base to protect my nails and allow the nail polish to stay longer I chose to paint my nails in white . I first thought to begin with a black nail polish to make a nail art rather gloomy but finally white is much convenient to bring out the bloodstains.
By the way for bloodstains you just need a red nail polish and a straw. Apply a drop of nail polish at the end of your straw and blow on your nail. I advise you to protect your nails because this nail art is pretty messy.
🇫🇷 - Je ne saurai trop vous dire quel est mon personnage favori, mais c'est vrai que j'ai une petite préférence pour Mona 😊. Bon parlons un peu nail art maintenant, après avoir appliqué une base pour protéger mes ongles et permettre au nail art de mieux tenir j'ai choisi de faire tous mes ongles avec une base blanche. J'ai d'abord pensé à du noir pour faire un nail art assez lugubre mais finalement le blanc est bien plus pratique pour faire ressortir les tâches de sang.
Pour les tâches de sang d'ailleurs il vous faut juste un vernis rouge et une paille. Appliquez un peu de vernis au bout de la paille puis souffler sur votre ongle. Je vous conseille de protéger vos ongles car ce nail art est pas mal salissant.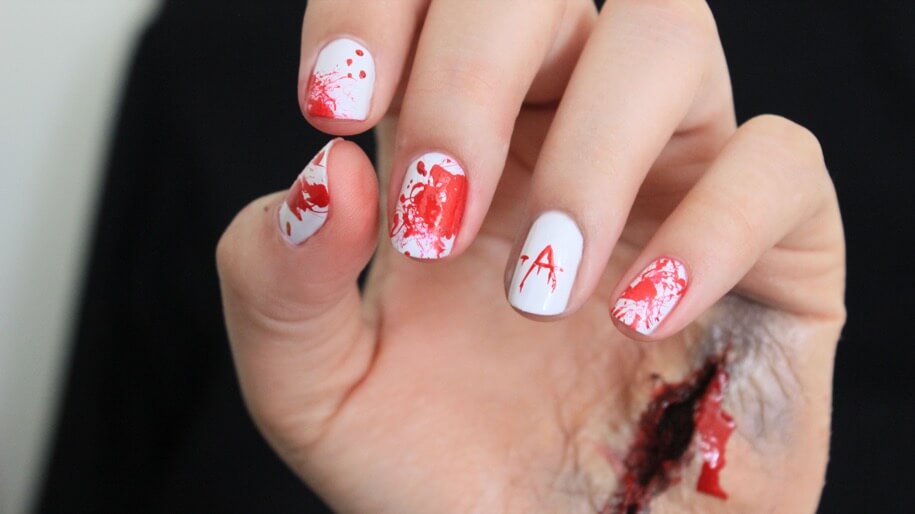 🇺🇸 - I used : / 🇫🇷 - J'ai utilisé :
- Base and Top Coat O.P.I
- L'Oréal Color Riche Chantilly Lace
- Ciaté Hutch
- Pinceaux :
https://lisablabla.com/shop/produit/lot-de-15-pinceaux-nail-art/
- Pompe à dissolvant :
https://lisablabla.com/shop/produit/pompe-a-dissolvant/
- Peel Off :
https://lisablabla.com/shop/produit/peel-off-latex-liquide/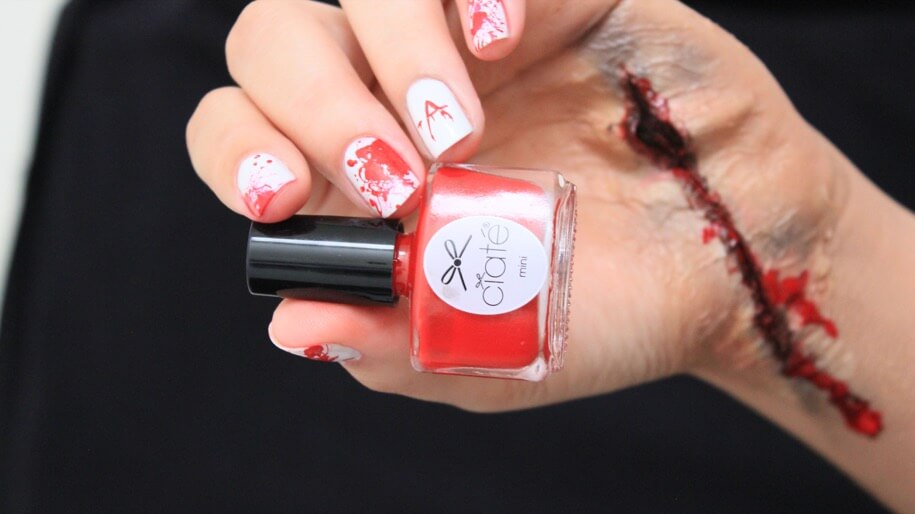 🇺🇸 - TIPS : Don't forget to always start a nail art with a base coat. A thin layer of nail polish then a thicker cause this way the nail polish will dry faster and the colors will be brighter. And of course finish with a top coat but just tap so the nail art won't smear
🇫🇷 - ASTUCES : N'oubliez pas de toujours commencer un nail art avec une base. Une fine couche de vernis et ensuite une plus épaisse car de cette façon le vernis sèchera plus vite et les couleurs seront plus brillantes. Et évidemment finir par le top coat mais juste en tapant pour que le nail art ne bave pas.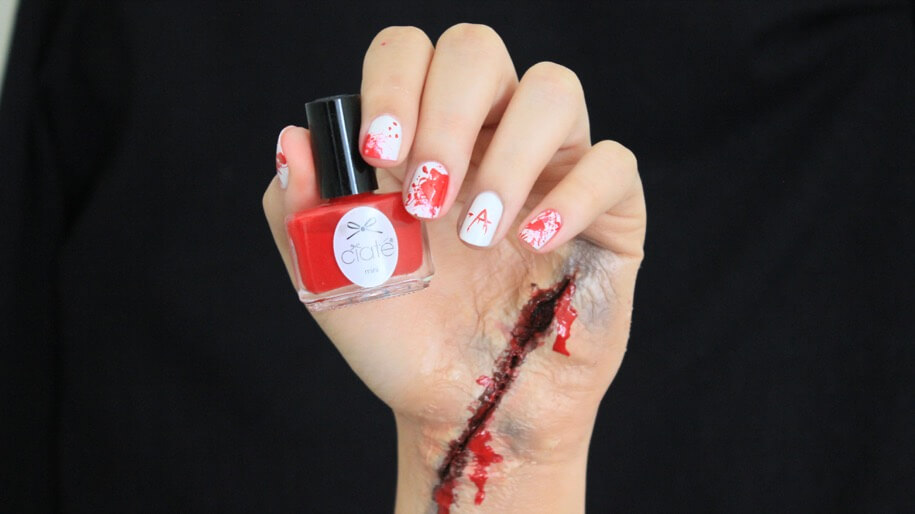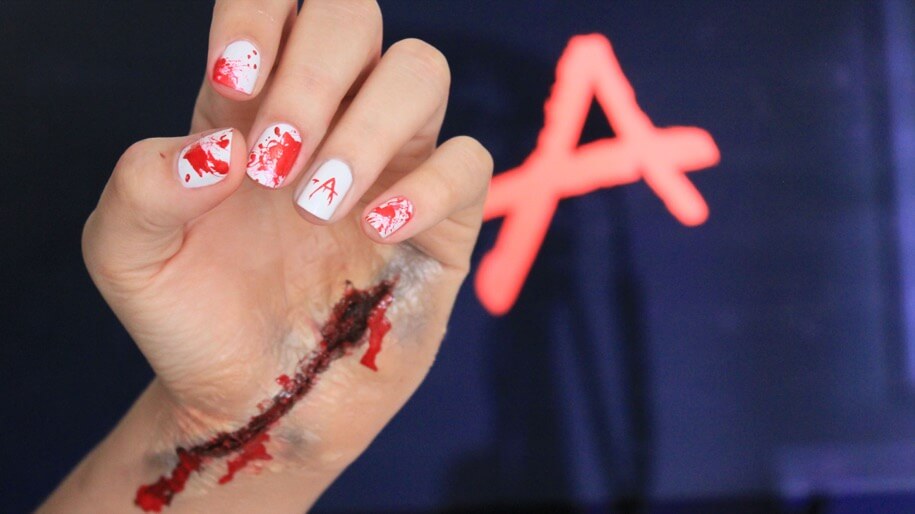 🇺🇸 - About you what's your favorite TV series ?
🇫🇷 - Et vous quel est votre série télé préférée ?
IT WON'T BE THAT EASY BITCHES - A