🇺🇸 - Hello sweeties ! A nail art a little more fun than usual : THE SIMPSONS ! I can say it's my FAVORITE cartoon for sur and you what is your favorite cartoon? Quite easy to achieve because we don't draw the full Simpson but only the top of the head.
🇫🇷 - Salut les filles ! Un nail art un peu plus fun que d'habitude : LES SIMPSON ! On peut dire que c'est mon dessin animé PREFERE, et vous quel est votre dessin animé favori ? Assez facile à réaliser car on ne dessine pas le personnage en entier mais uniquement le haut de sa tête.
🇺🇸 - I used : / 🇫🇷 - J'ai utilisé :
- O.P.I Base & Top Coat
- Butter London Fiver
- Butter London Teddy Girl
- L'oréal Color Riche Shocking Pink
- Kiko Velvet Satin #688
- Kiko Power Pro #32
- Sinful Colors Let's meet #928
- Kiko #344
- Wet n Wild Saved by the Blue
- Wet n Wild #424A Black Crème
- Kiko Quick Dry #815
🇺🇸 - TIPS : Don't forget to always start a nail art with a base coat. A thin layer of nail polish then a thicker cause this way the nail polish will dry faster and the colors will be brighter. And of course finish with a top coat but just tap so the nail art won't smear
🇫🇷 - ASTUCES : N'oubliez pas de toujours commencer un nail art avec une base. Une fine couche de vernis et ensuite une plus épaisse car de cette façon le vernis sèchera plus vite et les couleurs seront plus brillantes. Et évidemment finir par le top coat mais juste en tapant pour que le nail art ne bave pas.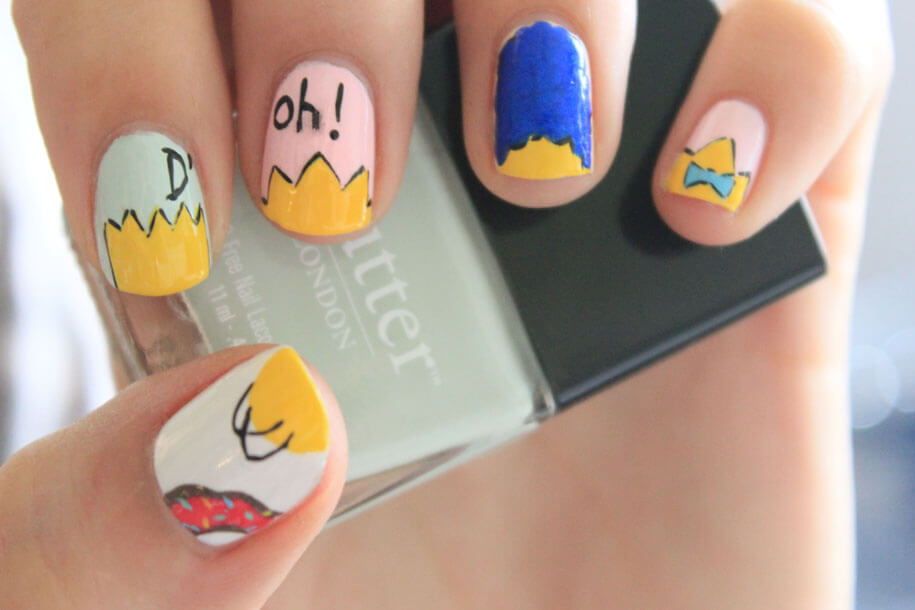 🇺🇸 - Enjoy ! And see you soon for a new blog.
🇫🇷 - Amusez vous ! Et à bientôt pour un nouveau blog.
Musique : Silent Partner - Dog and Pony Show