🇺🇸 - Hello to all today is a very easy nail art and pretty basic I realized as I test the gel varnish at Qttie and I had never done nail art with only gel polish so I confess that I 'had a little afraid of the result. I had the chance to receive a starter kit that I find really cute because it really is portability and easy to use. Besides this may be why the price is high enough, the products are very good, plus they are not tested on animals and do not contain the following toxic chemicals: toluene, dibutyl phthalate, formaldehyde, formaldehyde resin, camphor. For me the first I love the polish but there are toxins  that seep into our blood and skin and are very dangerous. So mind you.
I explain everything in the video but in summary:
- Step 1: Clean the nail to remove dust & oil.
- Step 2: Paint your nail with gelly polish (apply thin layer for first coat for longer lasting effect)
- Step 3: Dry the polish in the LED Stick for 30 secs. Repeat for 2nd coat of color.
- And you're good to go!
🇫🇷 - Bonjour à toutes aujourd'hui c'est un nail art très facile et assez basique que je réalise car je teste les vernis gel de chez Qttie et je n'avais jamais fait de nail art avec uniquement des vernis gel alors je vous avoue que j'avais un peu peur du résultat. J'ai eu la chance de recevoir un kit de démarrage que je le trouve vraiment mignon car il s'emporte vraiment partout et est très facile d'utilisation. D'ailleurs c'est peut être pour ça que le prix est assez élevé, les produits sont de très bonne qualité, de plus ils ne sont pas testés sur les animaux et ne contiennent pas les produits toxiques suivants : Toluène, Phtalate de dibutyle, Formaldéhyde, Résine Formaldéhyde, Camphre . Car moi la première j'adore les vernis mais il y a des toxines qui s'infiltrent dans notre sang et notre peau et qui sont très dangereuses. Alors faites attention à vous.
Je vous explique tout dans la vidéo mais en résumé :
- Etape 1 : Nettoyez vos ongles pour retirer la poussière et le gras de vos ongles
- Etape 2 : Appliquez directement le vernis gel (commencez toujours par une fine couche en premier)
- Etape 3 : Faites sécher 30 secondes sous la lampe. Puis recommencez pour une deuxième couche de couleur
-Vous êtes prête à partir !
🇺🇸 - It is true that the lamp is pretty small we can do only one finger at a time, but your nail just needs 30 seconds to dry and as I show you in the video it's made to be able to store gel polish inside That is extremely convenient if you go on vacation or traveling because you carry the lamp with gel polish on it. It does not take place and you will be certain to have a perfect manicure for days because the gel polish stay much longer than basic nail polish. For nail art is also pretty good because as each layer it is passed under the lamp at the end when you apply the top coat everything is dry and there is no smudge that spoil the whole nail art!
🇫🇷 - C'est vrai que la lampe est très petite on ne peut faire qu'un seul doigts à la fois, mais il suffit de 30 secondes pour qu'un ongle soit sec et comme je vous montre dans la vidéo elle est faite pour pouvoir ranger un vernis à l'interieur ce qui est extrêmement pratique si l'on part en vacances ou en voyage car vous n'emportez que la lampe avec le vernis dedans. Ca ne prend pas de place et vous être certaine d'avoir une manucure parfaite pendant des jours car le gel tient beaucoup plus longtemps que le vernis classique. Pour les nail art aussi c'est plutôt pas mal aussi car comme à chaque couche on le passe sous la lampe à la fin lorsque l'on applique le top coat tout est déjà sec et il n'y a aucune coulures de vernis qui gâche tout le nail art !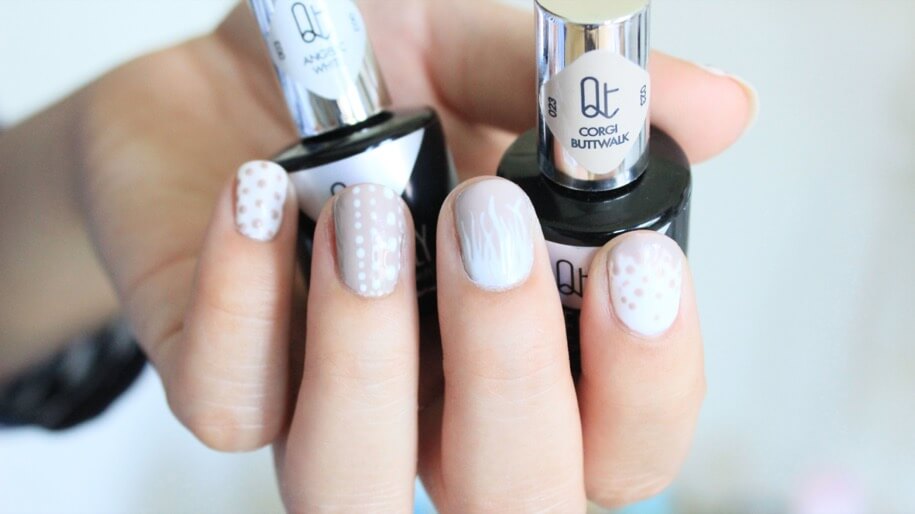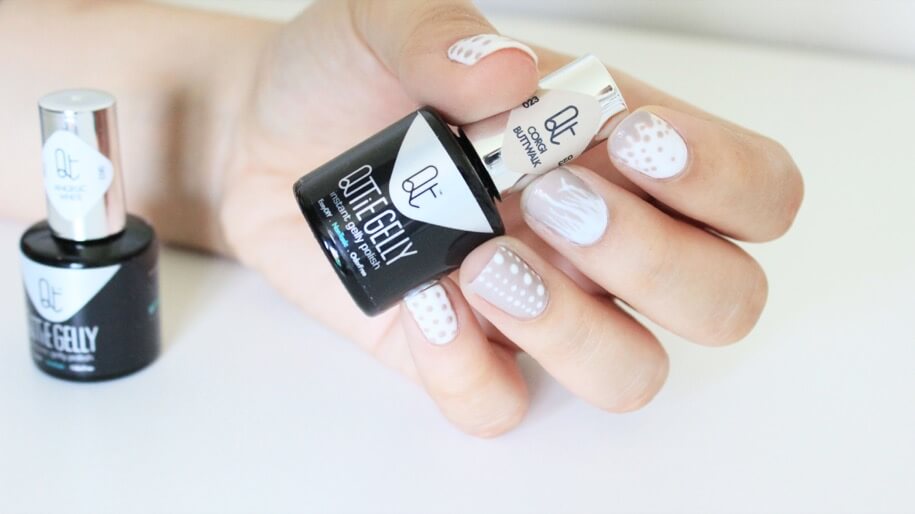 🇺🇸 - I used : / 🇫🇷 - J'ai utilisé :
- Qttie Gel Polish Corgi Buttwalk
- Qttie Gel Polish Angelic White
- Qttie Gel Polish Top Coat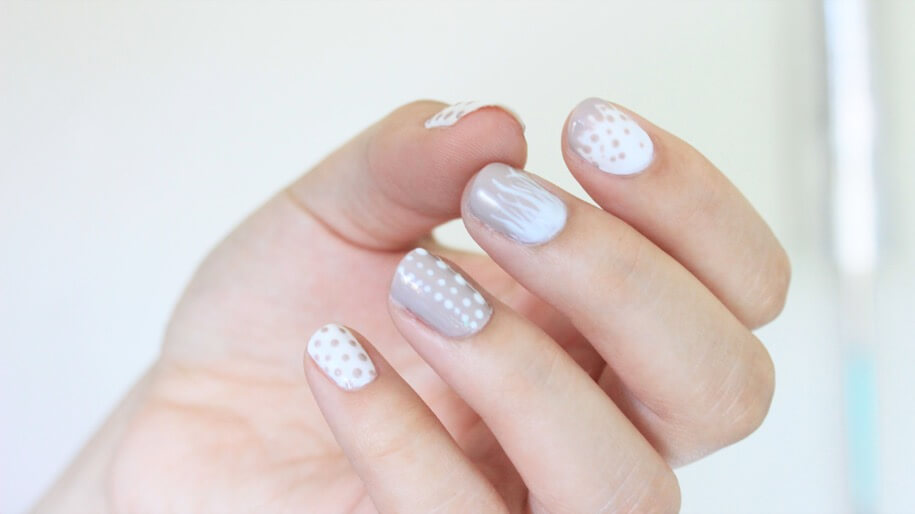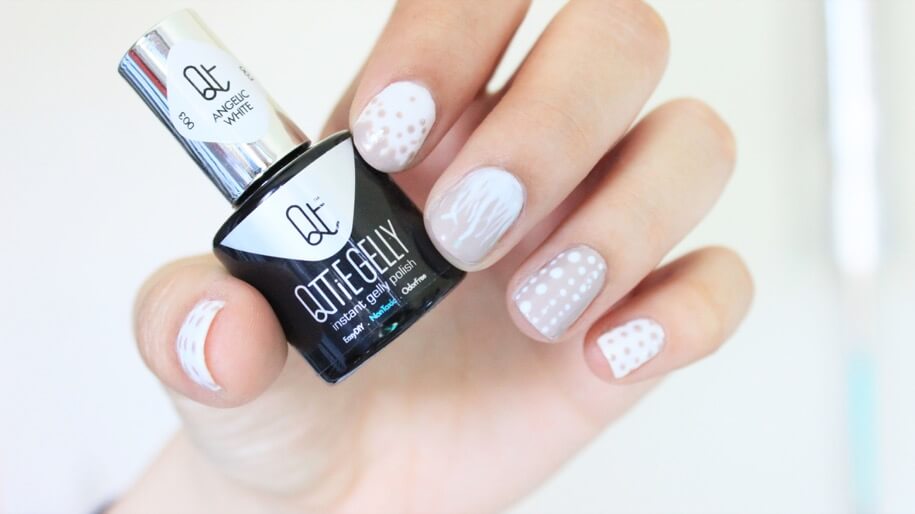 🇺🇸 - TIPS : With Qttie gel polish you do not need base and top coat, everything is included in the color. And for those who know a little gel polish there is no need to clean the nails at the end. The use is extremely easy and fast
TIPS #2 : Be careful to clean the edges of your nails before the lamp step because if it does not adhere to your nail it may not stay long and may take off.
🇫🇷 - ASTUCES : Avec les vernis gel Qttie vous n'avez pas besoin de base et de top coat, tout est inclus dans la couleur. Et pour celle qui connaissent un peu les vernis gel il n'y a pas besoin de nettoyer l'ongle à la fin. L'utilisation est extrêmement facile et rapide.
ASTUCES #2 : Faites bien attention de nettoyer les rebords avant de passer le vernis sous la lampe car s'il n'adhère pas correctement à votre ongle il risque de ne pas tenir longtemps et de se décoller.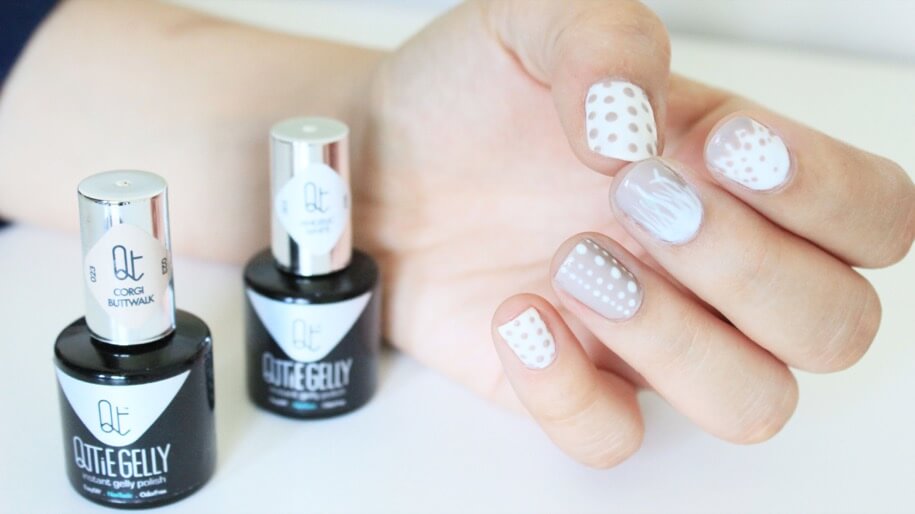 🇺🇸 - To remove the gel polish do not scrape your nails this will damage and weaken them. Wrap with acetone for 10-15 minutes!
🇫🇷 - Pour le retirer ne grattez pas vos ongles car cela va les abimer et les fragiliser. Enveloppez les d'acetone pendant 10-15 minutes !
Backstage :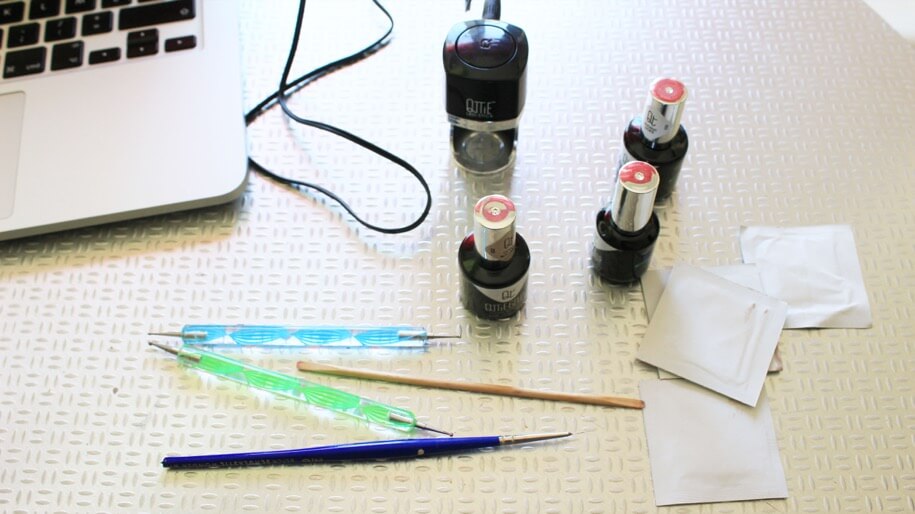 Musique : Silent Partner - Spring My Step